Overview
[
]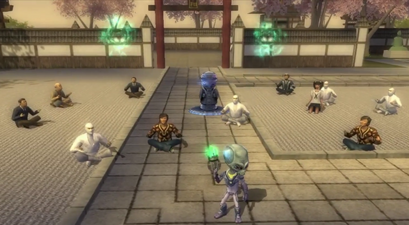 The Cult of Arkvoodle is a collection of Hippies, Guru's, Modern Hippies, Hippie Freaks, Hippie Flippies, Yappies, Loppies, Hippie Dancers and any hippie you can make up, even Ninjas are in the cult. They all worship Arkvoodle in the name of love and The Sacred Crotch. They come from all kinds of places, including America, England and Japan. There are missions dedicated to this Cult of Arkvoodle, represented as eyes on the radar.
History
[
]
The Cult is started once Pox realizes that Crypto is part of a prophecy, and that he is the son of Arkvoodle. After which the cult is created by, and somewhat led by Crypto. After locating, rescuing, and promoting the Hippie Guru Shama Llama, he then manages the Cult Of Arkvoodle. He helps Crypto get a new weapon called the Burrow Beast, and is later killed by Crypto after getting *drunk* with the power and fame. After Shama Llama is killed, the son of Sleepy Ernst is made the leader/manager of the cult, but it ends up a complete failure. A Takoshima Paper ad says that "Ernst led the Cult into hell.... so to speak. It was completely dissolved."
Trivia
[
]
The green "Arkvoodle eyes" cast a shadow identical in shape to landing zones in Destroy All Humans!
Appearances
[
]